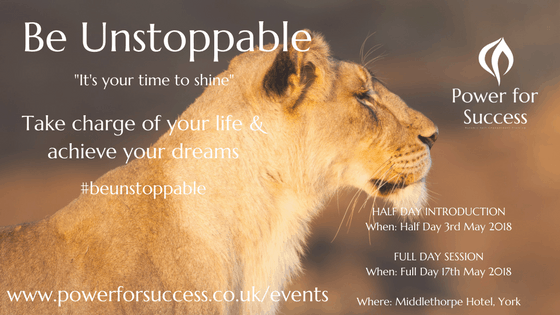 10 Apr

Be Unstoppable, what's in it for me?

Let me guess, you're thinking "Another event, yeah yeah. Seen it all before."

If you will, I'd like to hazard a guess that the content of the Be Unstoppable workshop is nothing like you've attended before – BOLD CLAIM RIGHT? Well, hang on, let me explain.

First of all let's address one of the main blocks for booking onto 'yet another event' – MONEY. You want to know what's in it for you. Of course you do, you're in business, possibly in sales and it's a fair enough question.

The Be Unstoppable events are ideal for sales people and teams. This exact workshop has proven to sky rocket sales immediately and I am not exaggerating (there I go making BOLD claims again!)

Just by working through an individuals confidence in themselves, in helping them to understand their mind, their habitual thoughts and belief systems people begin to have control over their actions and how ambitious they can be, proving time and again to have a massive impact in their approach.

The mind is the computer that determines the output yet what we do is keep teaching salespeople sales skills which is great but forget the mindset.

In my surveys 95% of sales people fear rejection and therefore hesitate. What is the impact of this in businesses? Well, I can tell you that from the feedback I get from Sales Directors the team become shy at pushing rate growth.

How would it be if asking for the business was exciting and easy for your team? WE cannot ignore the psychological state of mind your teams need to be in for high performance success.

What if I were to say that by investing in a full days workshop at £175 would deliver a solid return, way way more than 100%? Wouldn't that be worth the investment?

So, to answer your question – What's In It For You, the answer is simple – increased profit, continued business growth and perhaps just as importantly a sales team that feels valued, happy, confident and UNSTOPPABLE!